Amaizing Buenos Aires – 8 hours full day tour – PROMO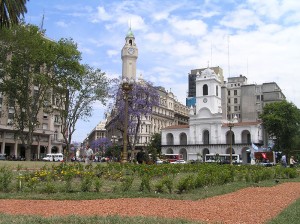 SPECIAL SEASON PROMO.
BOOK NOW AND SAVE!
This day tour will guide you through the city of Buenos Aires, getting to know the traditional tourist places as well as those spots that only the "Porteños" know and are kept as a secret.
You´ll be introduced to a large number of curiosities in a relax atmosphere, so you will have plenty of time to enjoy this incredible city. This tour is ideal for cruise passengers and hotels. Several easy walks are programmed in this city tour.
Tour duration: 8 hours
Type of tour: Private tour with licensed Buenos Aires guide
Starting point: Door to door service
Starting times: daily from 8.00 to 11.30
Itinerary
Belgrano – Nuñez: Parks / North coastline / River Plate. River Plate Stadium / Memory park
Palermo: Parks / Planetarium / Zoo / Rose Garden / Palermo´s Horse racecourt / Park neighborhood.
Recoleta: Cemetery / Francia Sq. / Church of Our Lady of Pilar / Floralis Genérica (mechanical flower) / Law School / Alvear Av. / Ateneo bookstore / The Water Palace.
Retiro: San Martín Sq. / Florida St. / Air Force Sq. / English Tower / Kavanagh Building.
Avenida de Mayo: Mayo Sq. / Government house (Pink House) / Cathedral / Cabildo / Congress.
Avenida 9 de Julio: Obelisk / Colón Theatre / Lavalle Sq. (Supreme Court)
San Telmo: Dorrego Sq.
La Boca: Boca Juniors stadium / Caminito
Puerto Madero: South coastline / Ecological reserve / Women's bridge
Walks in:
Rose garden / Recoleta cemetery / Memory park / La Boca
Stops in:
Floraris Generica / Women bridge / Ateneo bookstore
Remarks:
Lunch not included. An ideal tour for people that love details and for cruise passengers arriving at Buenos Aires port.
Price:
1 pax: 250 USD / 2 paxs: 280 USD / 3 paxs: 360 USD / 4 paxs: 400 USD
Book now!!
Does not include:
– lunch
– admission tickets to Recoleta cemetery (aprox. 10 usd per person).
Contact your guide: Click Here